How To Make Your Own Turmeric Immunity Shot
Your mission, should you choose to accept it…. Safely make your way to the grocery store and back, without getting infected by the following enemies: coughers, sneezers, and any surface imaginable to avoid Covid-19. This will be a tough challenge, which is why we have the best gear available. Masks, gloves, dirty clothes you've used as your outside clothes and worn a million times, plus… The Turmeric Immunity Shot.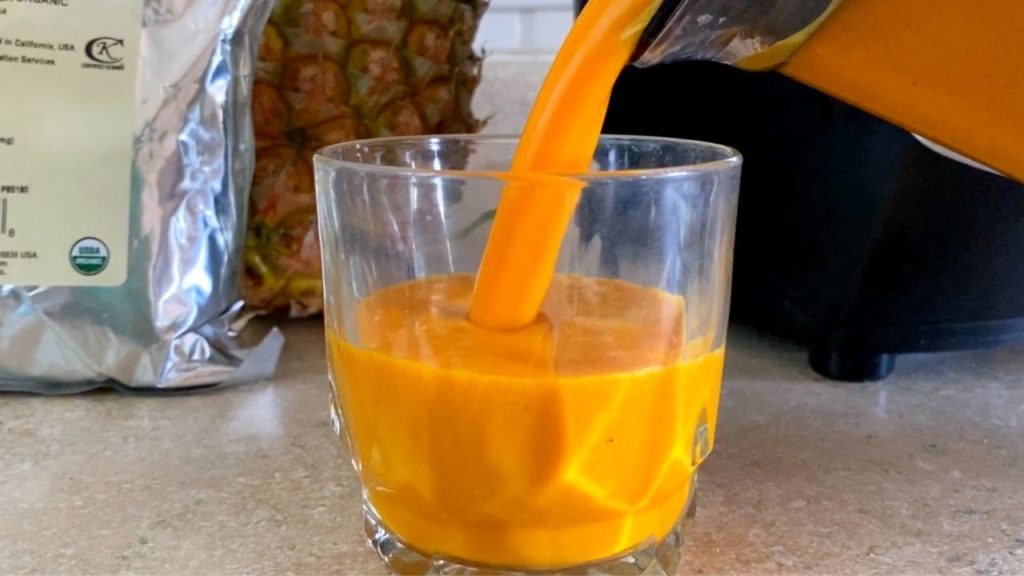 How we discovered it…
My mom and I were doing a stock up shopping spree at Costco. We do these runs about once a month. There's no more "I'll just pop over to the store to get some eggs." It's a one trip wonder, hopefully so you never have to go out again. The only exception is when we have to restock on chocolate. We need our chocolate.
When we made it to Costco, the lines were literally around the block. When we finally got in, we quickly grabbed our essentials, toilet paper, water, desserts, vegetables, etc.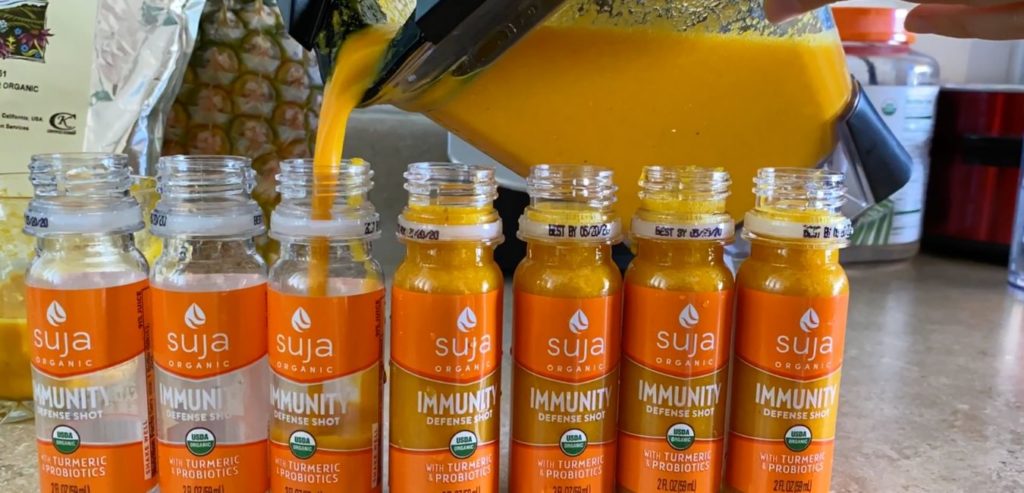 We soon came across these Immunity Shots by Suja, an organic juice company founded in 2012. Along with their other juice products, Suja produces a lot of different tiny shot drinks like the coffee-berry energy shot, the ginger digestion shot, the green tea focus shot, and of course, the Turmeric Immunity Shot. (I'm not throw'in away my shot!) That's from the musical Hamilton if you didn't know.
The Benefits…
Turmeric has a lot of health properties. Its great for clearing out gunk, toxins, and any unwanted things in your body. It helps your digestion, boosts your brain function, and even can help prevent cancer, arthritis, Alzheimer's disease and depression.
Who wouldn't want to have turmeric? Doctors are now starting to see the powerful role turmeric plays in our health. Studies have shown that turmeric can even improve aging. It's just packed with goodness.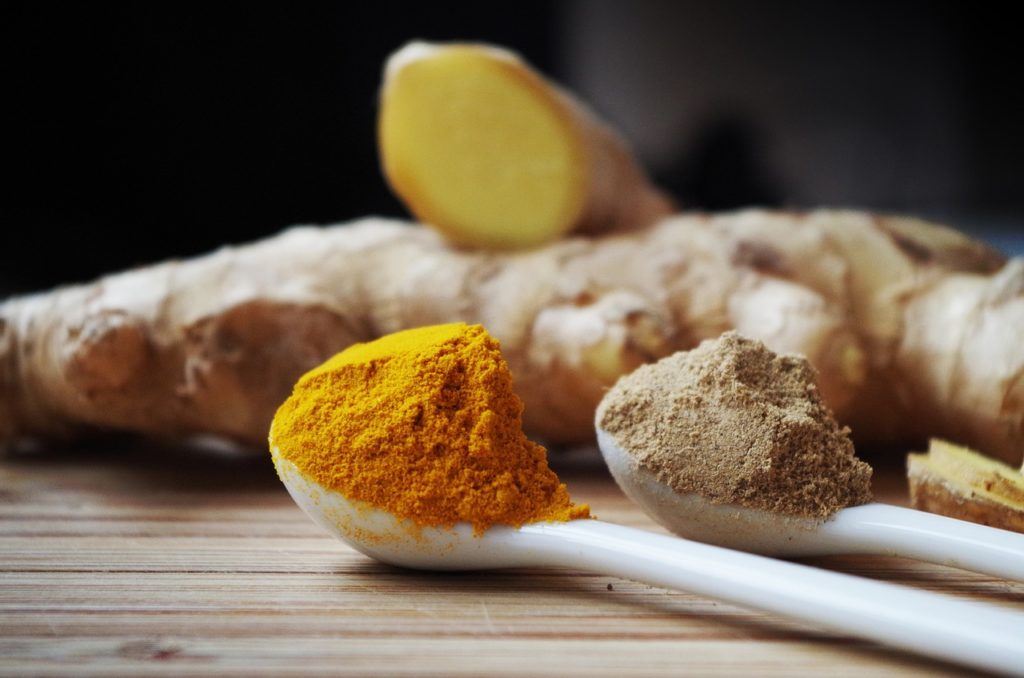 Turmeric is made of an ingredient called Curcumin. This gives the root the bulk of all these amazing qualities. But turmeric alone doesn't cut it. 1 teaspoon of turmeric only contains about 200 milligrams of Curcumin. This is why you need another ingredient mentioned later, Black Pepper. It enhances the Curcumin by 2,000% – BOOM!
We've made a lot easy, homemade dishes in the past like apple crumble, chocolate, carrot pancakes, cheesecake, smoothies, homemade Olive Garden chicken pasta, the list goes on and on. So, we decided to make our own Turmeric Immunity shots. It's pretty easy, and tastes almost exactly like the Suja Shots.
Here's the recipe
Oranges
Ginger
Black Pepper
Turmeric Powder
Lemon Juice
Echinacea (Optional)
Pineapple (Optional)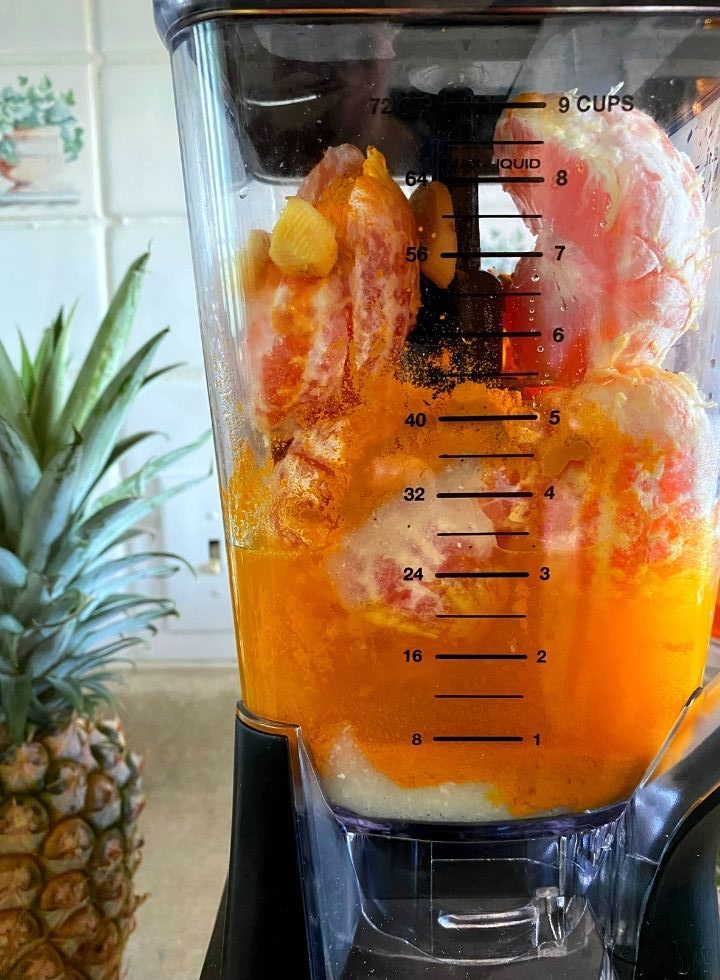 Instructions
Peel and blend 1/2 a cup of lemons and set them aside
Peel 4 oranges and place them in the blender
Add 1 peeled and cut root of Ginger
2 squirts of Echinacea
3 spoon fulls of Turmeric Powder
A dash of Black Pepper to activate the Turmeric
Add slices of pineapple
Add water and blend
Pour and enjoy!
There you go! That's all there is to it! There are so many easy, healthy recipes out there, and with so much time on our hands, why not try a few.
But now, it's time to sit back, relax, and drink.
"Salud!" (That means "To Your Health!").
Suja featured image copied by the Suja site.