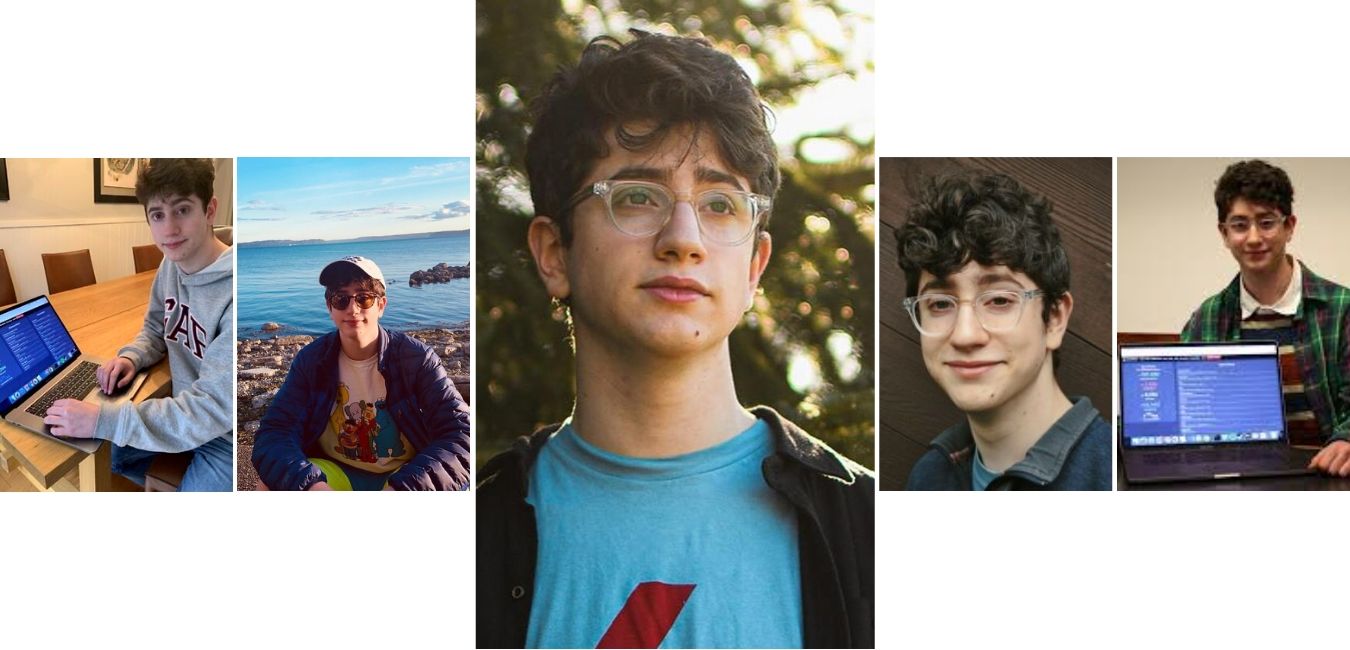 Young Achiever Avi Shiffmann
What would you expect from a teenager quarantined with his parents at home due to the Covid-19?
How about creating the most popular Coronavirus tracking website in the world? Pffff, that's crazy right? No, I'm serious.
This 17-year-old teen from Washington took the situation into his own hands and created a whole website from scratch to calculate and clearly show the numbers of people affected by Covid-19. Here's his story.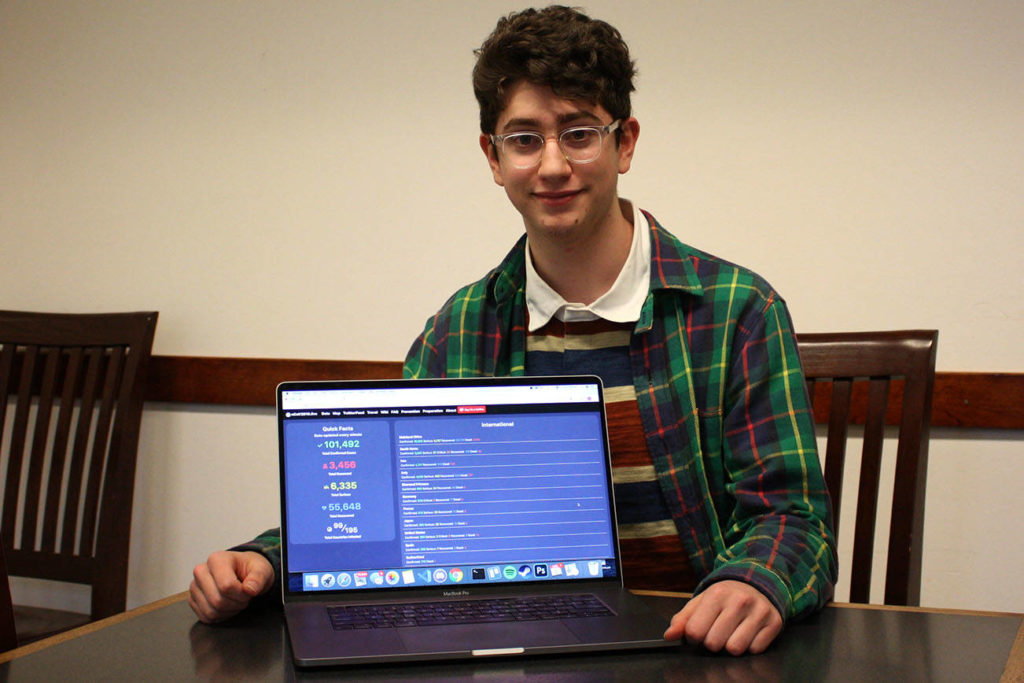 "I still want to play video games with my friends, its fun to be just like a normal teenager and forget I'm running one of the biggest websites in the world…"

Avi Shiffmann
Avi Shiffmann, born in 2003, on Mercer Island in Washington State, may seem like any other teen at his school. He enjoys playing Minecraft, hangs out with friends and has a cat named Louie. But Avi is not your typical teen.
When he was 7, he taught himself how to code watching YouTube tutorials. His dad used to be into programming which sparked Avi's passion. To this date, he's created over 30 websites, from a site that tracks the weather on Mars and another that collects information about worldwide protests. His first website was a hub for stick figure animation, and he was only in 4th grade!
On top of that, he began mastering 3D modeling, Graphic Design, Video Game Design, and Video Editing with After Effects and Premiere Pro. He also has a YouTube Channel sporting almost 2000 subscribers, where he posts tutorial videos on all of these subjects. Oh, and he's also the Co-Founder of a company called StudenSpin.
Avi was way more concerned about the virus in the beginning than most of his friends and family, even when it was still called a hoax. "I got masks a while ago. I got, like, fifteen for seventeen dollars. Now you can't even buy a single mask for, like, less than forty," Avi had said. At the time, the latest info could only be found on Chinese websites, the C.D.C, and the W.H.O. Even then, most of it was in Chinese or hard to understand.
"It's really hard to know which numbers are accurate. So many health departments don't release information publicly, or under-report."

Avi Shiffmann
Avi wanted to find a way to bring all the information together in one place so people could easily see the numbers of infected and recovered as a total, and in each country. So, he decided to build a website to do just that.
In 2019, during a skiing trip in late December in Snoqualmie Pass, Avi began the first draft of the website. He used a technique called "Web scraping". It's exactly what it sounds like, pulling information from different sources into one place. Scraping from HTML websites is easy, but it can get way more difficult if the information you are collecting is more specific and exact. Everything needs to be monitored for inaccuracies and bugs. And for something like this, it's very important. In fact, a while after the site went live, there was a bug that doubled all the number of cases. Avi received a massive amount of messages and had to quickly fix the server.
"I spent the entire weekend in my room, on my bed, staying up until 7 a.m., sleeping until 2 p.m."

Avi Shiffman
You think you want to stay up past 9:00 PM kids? What about the entire night!? Avi spent countless hours creating the code and software to calculate and and extract the coronavirus numbers. He also made code that cross-checks the sites for misinformation. It was stressful and time consuming, but in the end, it was indeed worth it. "He was beaming as though he'd discovered the cure for cancer." his mom had said.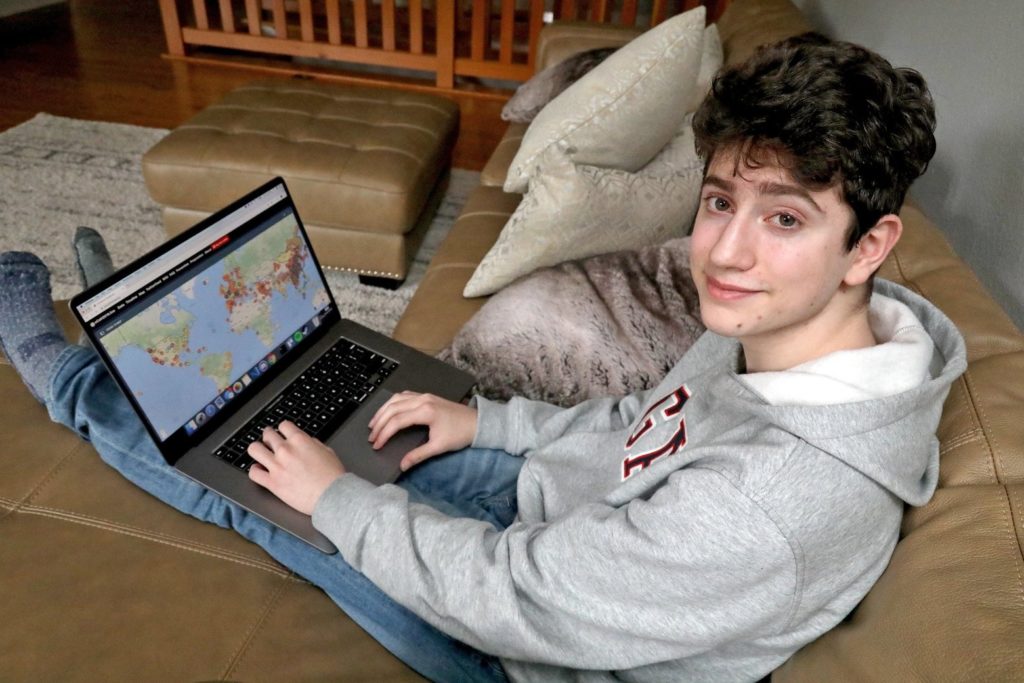 When the site (https://ncov2019.live/) became public, it was a viral sensation. Avi received tons of emails, almost every second with suggestions to improve the site. Avi spends most of his free time working on it as daily updates need to be made. At school, he saw many of his fellow students and teachers using his site, and even some Software developers had come up to him, offering their help. Avi had skipped a whole week of school to work on his site, but then his school just closed down anyway. In the meantime, his fame was growing rapidly. He's been featured in The New Yorker, The Seattle Times, and dozens of other places.
30 million people surf the website everyday, and as of April 7, 2020, 350 million people have visited the site. Because of this, many companies wanted their ads on his site, offering him huge amounts of money. One investor even offered 8 million dollars! But get this, he turned down every, single, one of them.
"I don't care that much about making so much money, I took the initiative to make this when nobody was talking about this."

Avi Shiffmann
Avi Shiffmann went from an unknown high school teenager in Mercer Island, Washington, to a kid prodigy known all over the world. It started with an idea. An idea to make the situation easier not only for him, but for the world.
Avi is a great example that you don't have to be a grown-up, get a decent paying job, or be the best student in class to make a difference. Avi wasn't great at school either, he was a 'C' student. It didn't stop him though. Everybody has their own way of shining. How will you shine?
"I hope that what I created inspires a lot of young people to find ways they can help. Find out what they're good at, and put their skills to use."

Avi Shiffmann