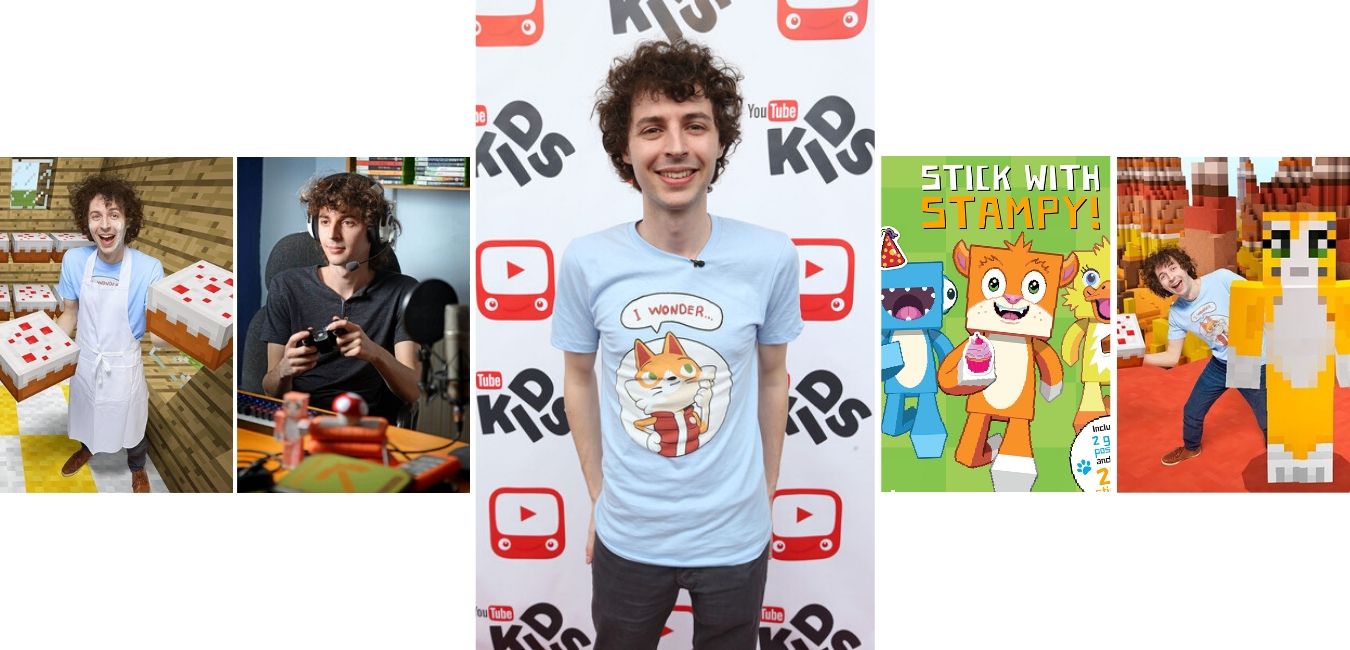 Young Achiever, Joseph Garret
If you have a kid, or you are a kid, you've probably heard of Minecraft (of course you have) and if you've heard of Minecraft, you might have heard of the famed YouTuber, Stampylonghead, AKA, Joseph Garret.
Joseph Garret is one of the top Minecraft YouTubers out there, with 9.29 million subscribers and over 7.20 billion views! This makes his net worth some up to 14 million dollars! His child friendly, let's play videos in the world of Minecraft, are full of adventures, stories, how to's, and challenges that make him the lovable figure he is. He's been described as the Pee-Wee Herman, mixed with Mr. Rogers. All this started from a genuine hobby.
"Stop thinking and start perceiving, then its light you'll start receiving."

Joseph Garret
Joseph was born in Portsmouth, Hampshire, England, on December 13, 1990. In 2006, at age 15, Joseph started his own youtube channel by the name of Stamplylongnose. The channel was mainly for fun and entertainment. Joseph uploaded videos from his friends acting out skits, too short stop motion and animation movies (the name, Stampylongnose, actually came from one of his animation characters).
In collage, Joseph sought out to get a degree in film, and creative writing, due to his passion grown from writing skits, and making movies. He then began to share his projects he either helped, or acted in, on his channel. Around that time, game-play and lets-play videos were becoming popular on youtube to gamers and viewers of all ages.
Deciding to try it out for himself, Joseph began posting his own game play videos consisting of games like Homefront, Call Of Duty and Halo. Very violent games, and Joseph was still getting used to commentating, noticing how his voice sounded dull in the videos. He was later offered to do a game review, for a company called GameThirst. Happy with the result, GameThirst hired him to make more videos for them, which gave Joseph the perfect opportunity to practice his commentating skills, which were gradually improving.
As he was finishing up university, there wasn't a lot of spare time to create game-play videos for his channel. Instead, in 2011, he started a new channel called Stampylonghead, where he focused on doing let's-play videos, which were far easier to make then the game-play's he had done. His videos also became more child-friendly when he saw that most of his fans ranged from elementary kids, to early teens.
As the new game, Minecraft, was surging into popularity, Joseph started a Minecraft lets-play series, publishing Episode 1 of Stampy's Lovely World. His worldly recognizable avatar was inspired by the star character of the game, Dust: An Elysian Tail. Documenting the growth of his world, his fan base began to grow too. Unlike other Lets-Play YouTubers, Joseph has a unique way of engaging the audience.
His videos range from a quest to the moon, an encounter with aliens, fighting his enemy "Hit The Target" (Yes, thats his name) building challenges, and a submarine adventure. Some of those things wouldn't have been thought possible to other YouTubers, but Joseph, using his knowledge of film, editing, and storytelling, nails it perfectly.
"I can come up with a new idea every week and do something that I have never done before."

Joseph Garret
He had been working as a barman and decided to quit so he could pursue video creation full time. In 2013, Joseph stumbled across YouTuber iBallisticSquid, AKA, David Spencer. They started doing a few videos together which quickly turned into a close relationship between them. This lead them to create a group channel called The Magic Animal Club.
In that same year, Joseph's channel, had unexpectedly been falsely terminated, because of unmet community guidelines. This immediately made his fans campaign to have it back on. The movement was so large that the channel was back on youtube the same day it went down, proving Joseph's powerful influence.
"He does a great job of bringing the positive aspects of Minecraft—the game's educational potential—to the surface."

Jordan Shapiro
Along with his Minecraft Lets-Plays's, he's done videos playing other games. like LEGO Worlds, Disney Infinity, Minecraft Story Mode, and much more. In fact, he was cast to be one of the NPC characters in Minecraft Story Mode, playing as Stampy. He also starred in the educational series Wonder Quest by Maker Studios (a branch of Disney). In his career, he's met and worked with names like DanTDM, Captain Sparklez and even the CEO of Minecraft.
In 2018, Joseph won the Guinness World Record for fastest player to bake 10 cakes in Minecraft, completing it in 5 minutes and 51 seconds. Such a thing exists! He's also been nominated for The Game Awards, The 4th and 5th edition of the Streamy Awards, The Golden Joystick Awards, and the Kid's Choice Awards in 2015 and 2016. On top of that, he's been interviewed on BBC Breakfast, Diddy TV, Good Morning Britain and Fun Kids Radio.
Joseph has a very fascinating story, and I can really relate to it. My YouTube Channel started the same way. I had seen plenty of challenge, gaming and tutorial videos, and decided I wanted to do the same. I had no idea I would start making travel diaries, mini movies, LEGO MOC reviews, and promo's.
This shows that you can make a living from anything! Whether your dream is to become a bowtie seller, drone manufacturer, or whatever makes you really light up with joy. You, no mater your age, can make it possible, and only you can offer that unique gift.