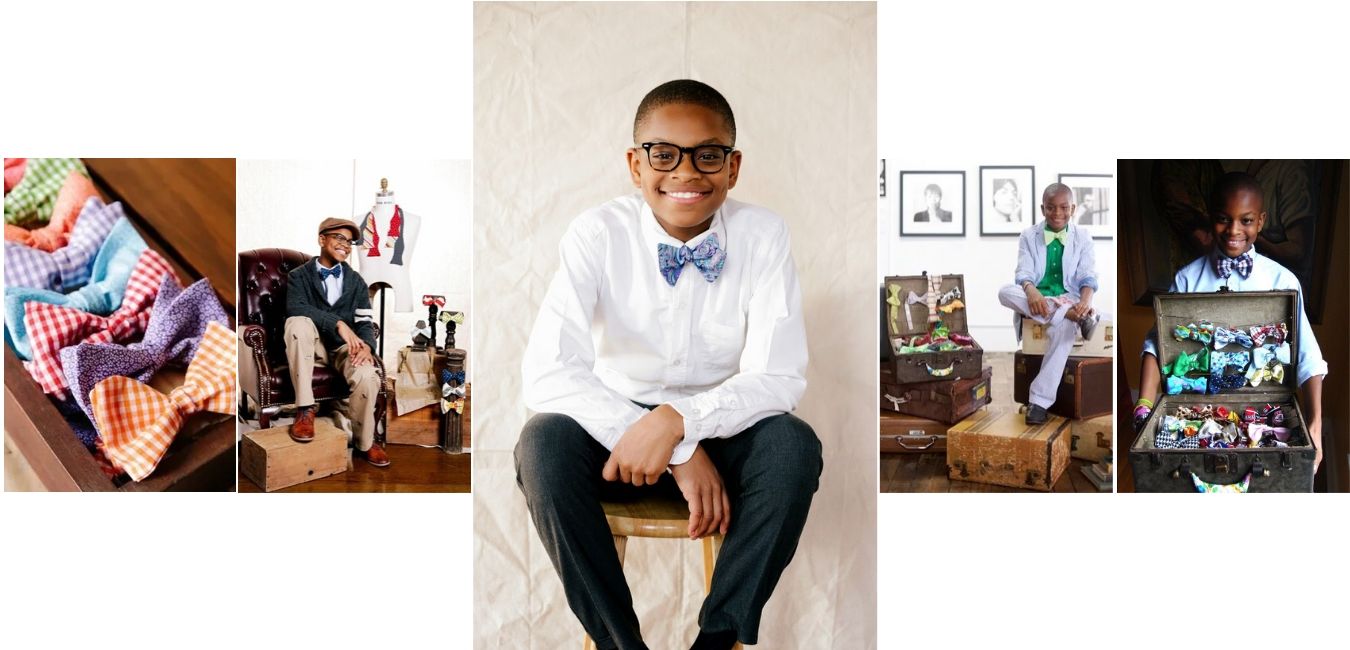 Young Achiever Moziah Bridges
Born in 2002 in Memphis, Tennessee, Moziah Bridges has turned an inspired idea into a 2 million dollar company called Mo's Bows. He sells bow ties, neck ties, pocket squares and more. Here's his story…
"I like to wear bow ties, because they make me look good and feel good."

Moziah Bridges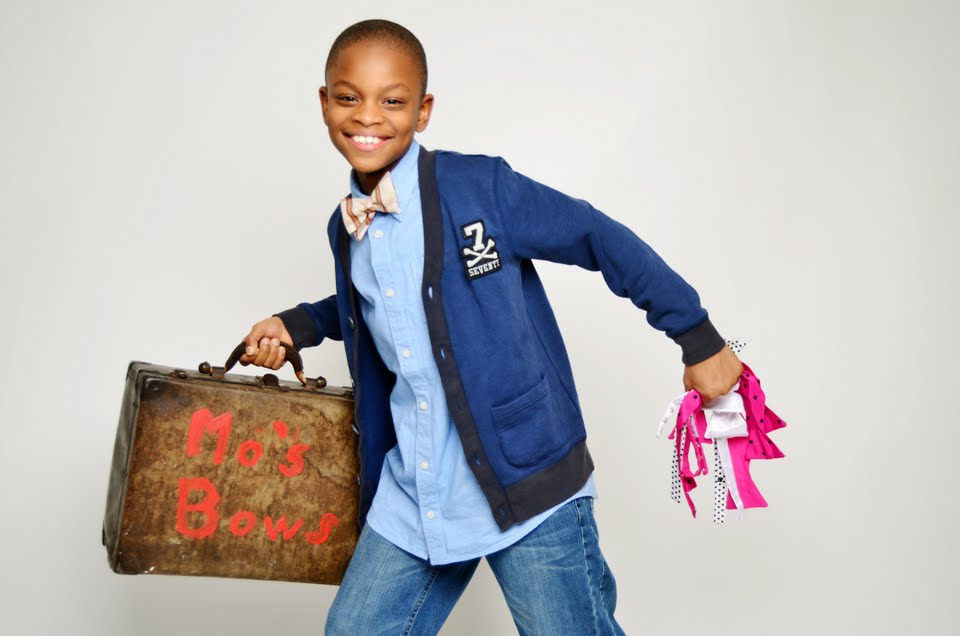 Moziah was like any other young boy with a dream and passion. From a young age, Moziah had a taste for fashion and his mom allowed him to wear suits and ties. At the age of 9, when he couldn't find any bow ties that matched his taste, he decided to create his own. The selection of ties for kids were too dull and either were clip-on or zipped up. "Real men should tie their own ties," Moziah claims.
With the help of his mother and grandmother, they got to work. Moziah had learned sewing by hand and by machine from his grandma, using fabric scraps to make his own designs. Eventually, Moziah had two dozen different handmade ties that met his style and personality.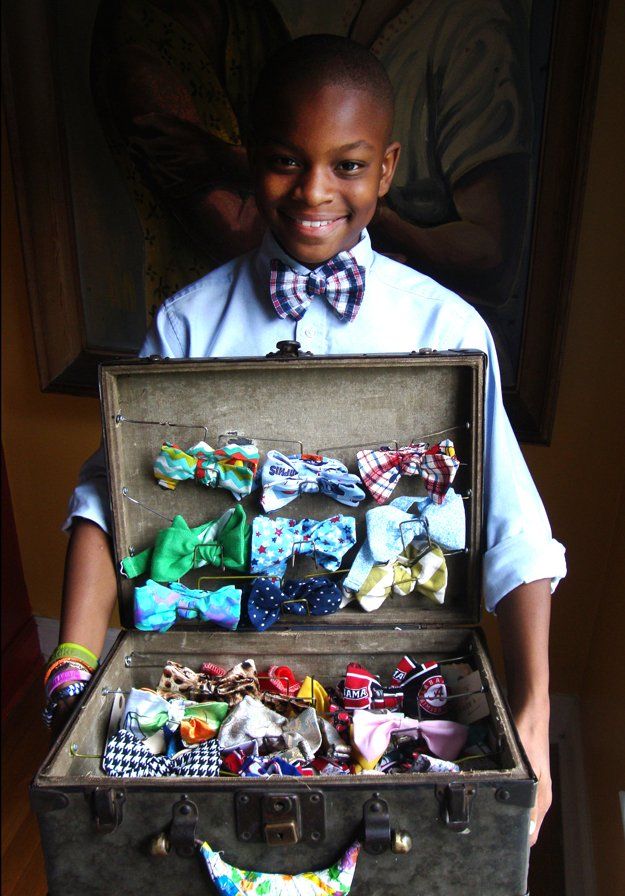 "I never imagined the baby business I started at my grandmother's kitchen table in South Memphis would one day be an internationally recognized brand."

Moziah Bridges
Word spread of Moziah's accomplishment and he saw an opportunity. In no time, he started selling ties on Etsy, Facebook and on his website, mosbowsmemphis.com. In 2011, Mo's Bow's was born. As well as selling online, his bow ties are sold at stores and markets in Tennessee, Alabama, Texas, Louisiana, South Carolina and Arkansas. Family and friends joined together to help him with production as the demand grew and business accelerated.
A variety of materials are used, like tweeds, ginghams, satins and silks. The business continued to grow and started catching the eye of people everywhere. He's aired on the Steve Harvey Show, including 29 other media platform, talking about his company. He has met with Oprah Winfrey, Melissa Harris-Perry and even Barack Obama! In 2013, 11-year-old Moziah got the chance to pitch his business on Shark Tank, the ABC reality show where entrepreneurs can get the funding and resources from investors who see potential and want to take part in the action.
"I have learned not to be a sell-out, and go with your heart,"

Moziah Bridges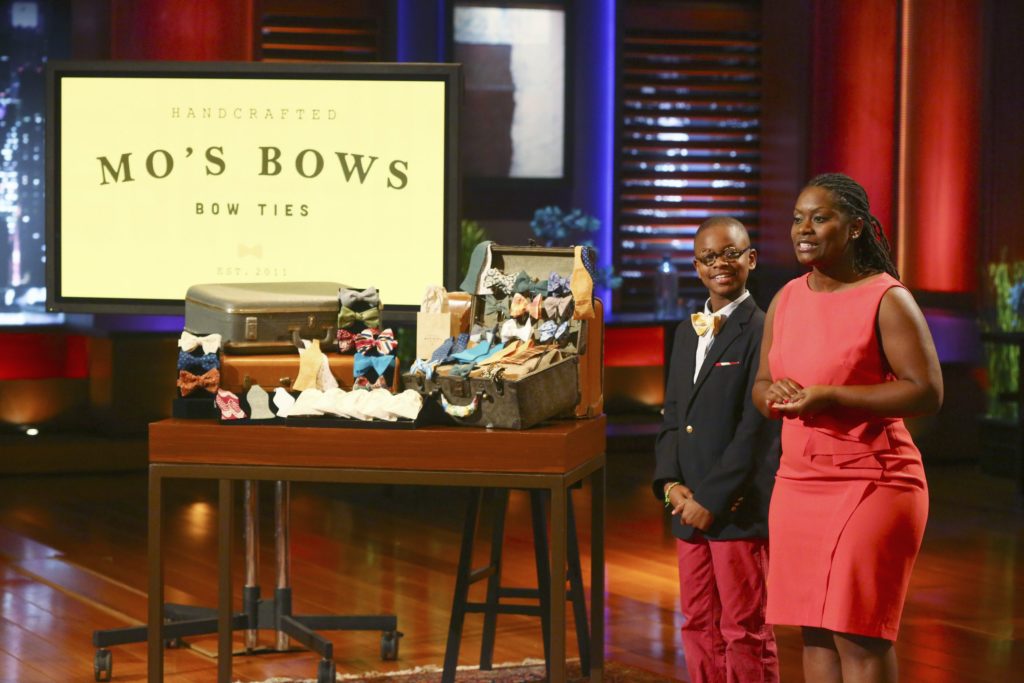 In season 5, businessman, motivational speaker and CEO of FUBU, Daymond John, took interest in Moziah. Another investor, Kevin O'Leary, offered Moziah a deal. Daymond however, didn't think it'd be a good choice because in 1989, Daymond was offered $10,000 for 40% of his fledgling company. He was just like Moziah, son of a single mom, striving for success. So, Daymond offered to give Moziah something greater than just money.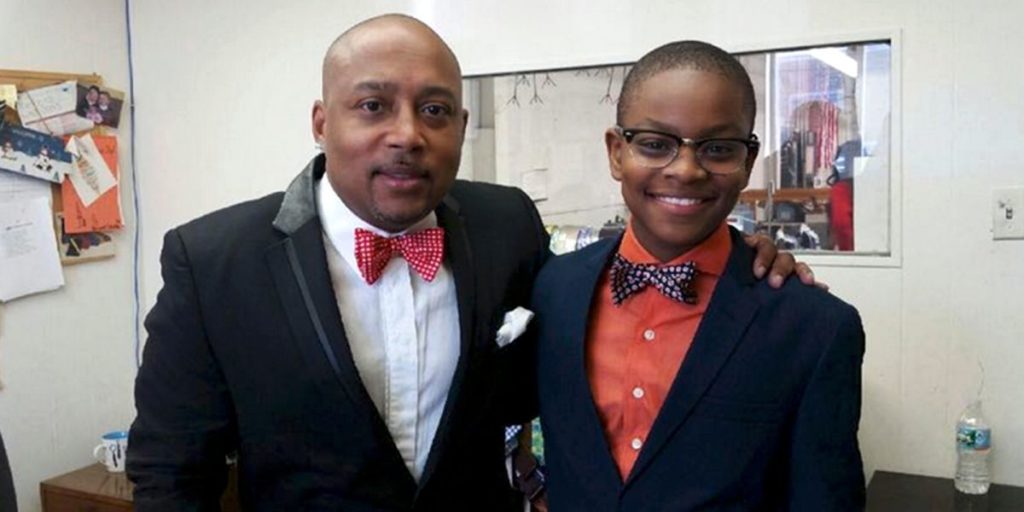 He would mentor and guide him for FREE. Showing him tips and strategies, and maneuvering the ins and outs, only if, Moziah didn't take Kevin O'Leary's deal. Moziah went with Daymond, and to this day he's never regretted the decision. Before Shark Tank, Mo's Bows only had $55,000 in sales, which isn't much in the business world. A couple years later, the company has reached $200,000 in sales! With this growth, they needed a manufacturer. Luckily, Daymond had just the thing in mind.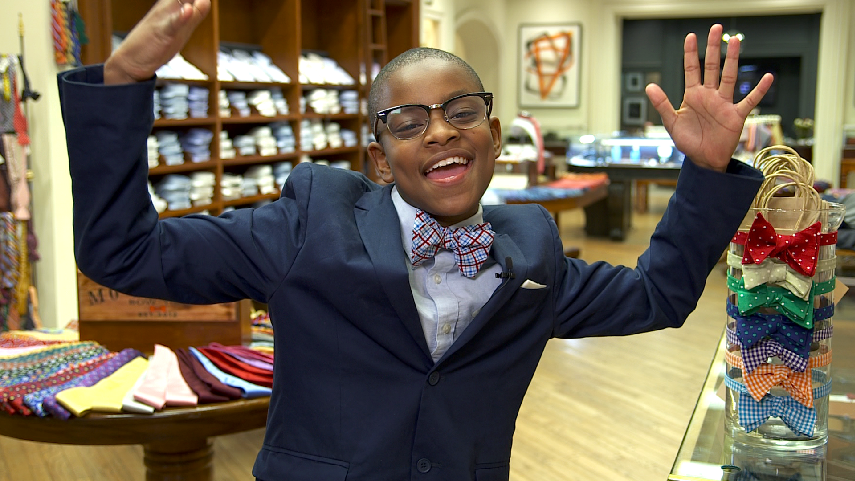 He hooked Moziah up with Robert Stewart, CEO of the Robert Stewart manufacturing company which have been making bow ties for 100 years. On top of that, they got a call from the now former CEO, Karen Katz, of Neiman Marcus, a high end luxury clothing store, to try out the Mo's Bows brand in the store itself. At 13 years old, he accomplished something most brands still strive to do.
When he's 20, Moziah wishes to expand his products from bow ties, to all clothing. He's already selling neckties, pocket squares, T-shirts and more. The colors and designs he uses are bright and sure to catch the eye, as Moziah doesn't want to be another typical brand. Even today they are still made from scratch with Moziah as CEO, making the decisions.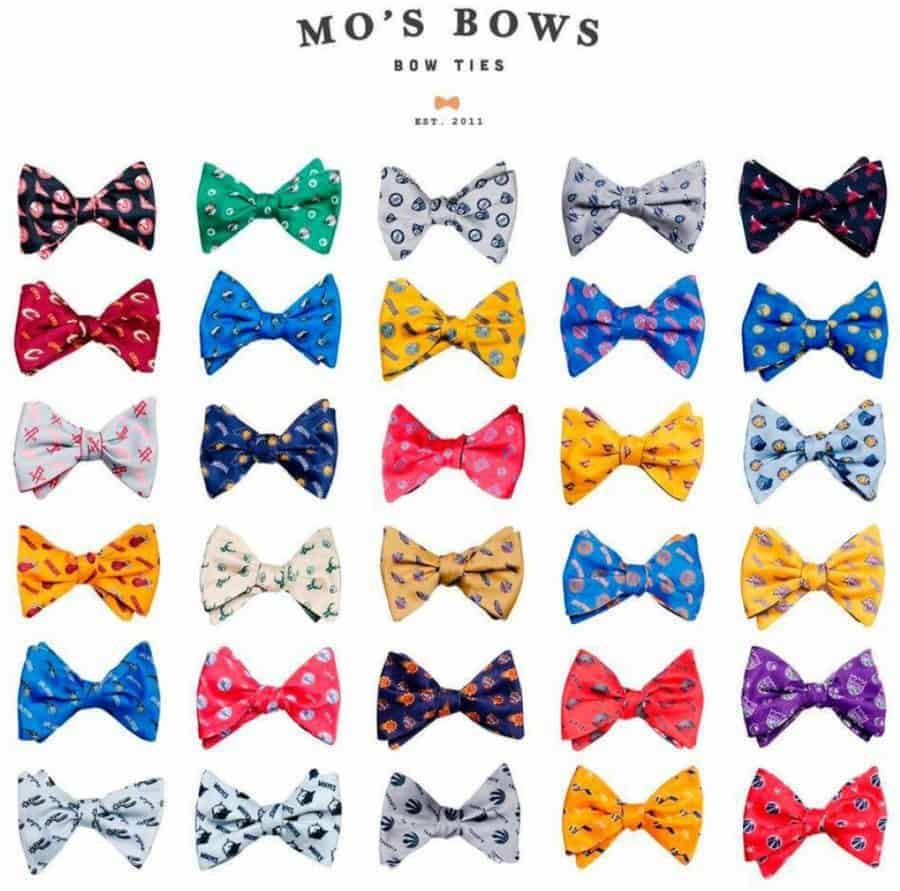 Moziah is now 18 years old and has recently closed a deal with NBA to craft bow ties with all 30 basketball team logo's. He's already had famous NBA stars sport his ties, including Russell Westbrook. The company has sky rocketed to success. He currently has a net worth of $1 million.
"I'm living proof that you can be anything you want – at any age."

Moziah Bridges
Daymond has always adviced Moziah to give back to the community. So, each year, Moziah and his company create a bow tie, specifically for charity. All the funds made by the bow tie, are geared towards donations.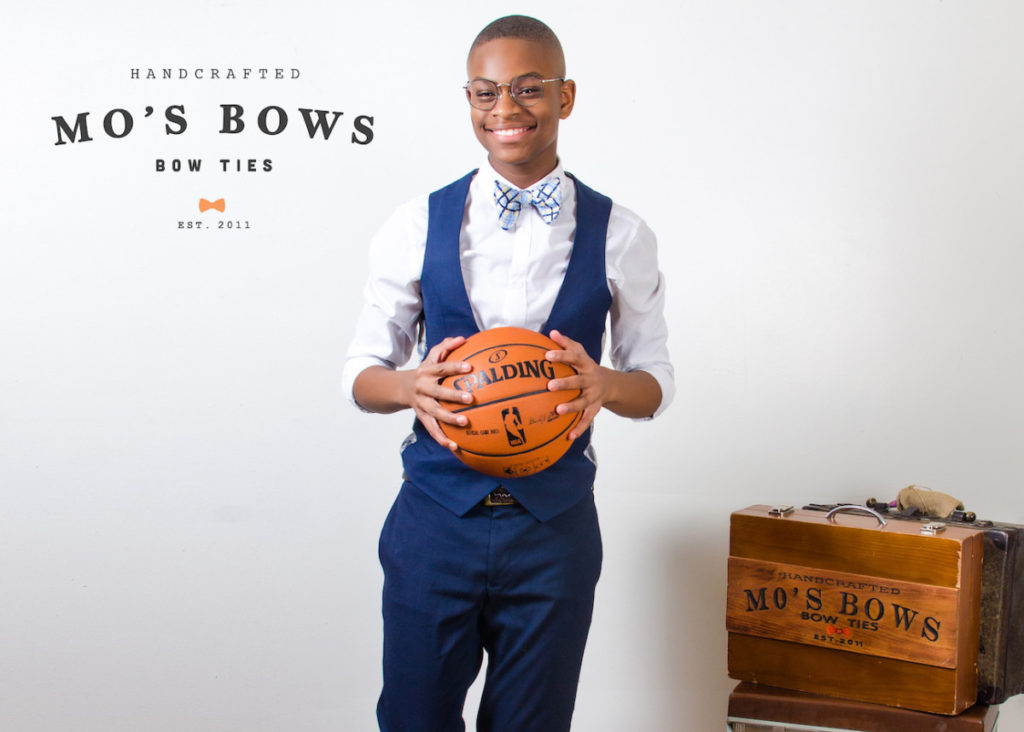 Inspired by his career experience, Moziah wrote an entire book titled, Mo's Bows: A Young Person's Guide to Start-Up Success, with a forward by John Daymond himself. The book talks about his personal journey and how young Kidpreneurs can believe in themselves and, in his words, measure, cut, and stitch your way to success.
Moziah is right. You can be anything you want – at any age. He's also a great example that you can make a career out of anything. Whatever your passion is, whatever you want to do, you can accomplish great things. It's just about getting rid of the notion that you have to wait to live your dreams. Just start!